Future Foods Special Issue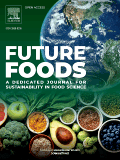 Submit a manuscript for a Special Issue of the Journal Future Foods. Deadline: 1 March 2021 Submit here: at https://www.editorialmanager.com/FUFO/default.aspx
All contributors of an oral or poster presentation at the NIZO Plant Protein Functionality Conference are invited to submit a manuscript for a Special Issue of the Journal Future Foods.
Future Foods is a new Journal covering sustainability in food science, including clean processing, new ingredients including plant protein ingredients and products prepared thereof, sidestreams minimization and utilization, sustainable packaging, innovative technologies, sensory and consumers analysis... The aim of the Journal is to publish research supporting improved food systems for a sustainable future. Read more about the Journal aims & scope here.
Future Foods is an Open Access Journal, which means your research will be immediately and freely accessible to everyone, everywhere.
If you are an attendee of the NIZO Plant Protein Functionality Conference, you will not be asked to pay the regular APC of $1,800: as a promotional offer from Elsevier, this fee will be waived for manuscripts submitted to this Special Issue.
Submissions for the Special Issue will be subjected to the customary peer-review process for the Journal. Manuscripts should be within the scope of the Journal, must meet the required scientific standard and should be in the correct format. Detailed information about these aspects can be found at: https://www.elsevier.com/journals/future-foods/2666-8335/guide-for-authors.
The submission system is now open. Future Foods uses an online submission portal which can be found at https://www.editorialmanager.com/FUFO/default.aspx. When submitting your manuscript, you will be requested to select an article category. Please ensure that you select the category for the Special Issue of the NIZO Plant Protein Functionality Conference: "VSI: NIZO Plant Proteins"
The deadline for submission of manuscripts is 1 March 2021. After this date, it will no longer be possible to submit your manuscript for the Special Issue.
If you have any questions or queries with regard to the Special Issue, please contact Dr. Fred van de Velde
We look forward to receiving your manuscripts and hope that they will contribute to a high-quality Special Issue of Future Foods for the NIZO Plant Protein Functionality Conference.
---