Keynote Speaker
Prof. Dr. Ir. Remko Boom, Wageningen University, The Netherlands
Talk Title: Gentle Plant Processing for Better Sustainability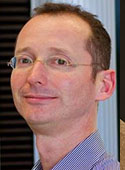 Remko Boom was born in Utrecht, The Netherlands, in 1965. He received his MSc degree (highest honours) at the University of Twente, in 1988. In 1992 he obtained his PhD degree (highest honours) at the same institute. In 1993 he received the Royal Dutch Shell Study Tour Award for his PhD work. From 1992 to 1998 he worked for Unilever Research. In 1998, he was appointed as full professor of Food Process Engineering at Wageningen University. From 2011 to 2015 he was scientific director of the Graduate School / Programme VLAG (food technology, nutrition, molecular sciences and agro-biotech¬nology). He holds visiting professorships at Tsukuba University in Japan since 2015, and at Nanyang University of Technology in Singapore since 2018.

His research interests revolve around the exploration of new principles to more sustainably produce healthier products: new ways to isolate ingredients, new ways to structure foods, and thermodynamic assessment of complex production systems using thermodynamics. His research group includes two other full professors, 6 assistant / associate professors, 5 technicians, and currently around 45 PhD students and postdocs (excluding BSc and MSc students). His group was recently assessed by an international expert panel, and found to be excellent in all aspects (scientific quality, societal relevance and viability); and was characterised as globally leading in its fields.

He is member of the Academic Advisory Board of the Institute for Sustainable Process Technology (ISPT), is member of the leadership team of the European Technology Platform Food for Life, is scientific director of the Sustainable Food Initiative, and participates in the top institutes on process technology (ISPT), and on food and nutrition (Top Institute Food and Nutrition, TIFN). He has currently (co-)published more than 390 peer-reviewed publications (Scopus), and has successfully graduated 68 PhD students to date.
« Go Back